MARIS Genealogy Home Page
Updated February, 2018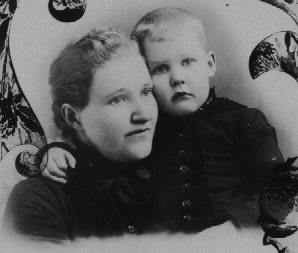 Alice Newlin Maris & Cloyce Otto Maris
The Maris Family in the United States, a book tracing the descendants of George (1632-1705) and Alice (surname unknown) (1632-1699) MARIS, who immigrated to Pennsylvania from England in 1683, was published in 1885. Our family has had a copy of this book since its original publication and, like many other MARIS descendants, we have long hoped that the book could someday be updated. Several years ago, at the urging of my father, I decided to make an effort to at least partially update this book and have thus far added data on over 315,000 descendants in addition to the 6,000 or so included in the original book. Although I had originally planned to publish an updated book (and may yet at some time in the future), I feel that publication on the Web will allow a larger number of interested individuals more immediate, up-to-date, and economical access to the data I have gathered. I am also considering publishing the info in e-book format, since this would be more economical than publishing a printed book, which would require multiple volumes.
I am anxious to hear from anyone, whether a Maris descendant or not, who is interested in obtaining additional information about their ancestors or in helping me with additions/corrections to the data. Also, please let me know if you would be interested in a book.
The data on my RootsWeb website is a subset of my off-line genealogy database, limited to descendants of George and Alice Maris, spouses of descendants, and spouses' parents and can be accessed by clicking on the link below. Over 550,000 individuals are included. Individuals assumed to be still living are identified only as "Living" and no dates or locations are included for them.
In my off-line database I have information on over 570,000 individuals including over 320,000 Maris descendants. The off-line database includes information on 17 generations of descendants as well as additional ancestral information on George Maris and some spouses of descendants who were members of other Colonial Pennsylvania families or who were my personal ancestors. Most were Quakers and prominently represented familes besides Maris include BAILY/BAILEY, BARNARD, BEESON/BEASON, BENNETT, BROOMALL/BROOMELL, BROWN, CARTER, CHAPMAN, CLARK, COATES, COFFIN, COPE, COPELIN, COX, CROCKETT, DARBY, DARLINGTON, DAVIS, DEWEES, DIXON, DUTTON, ELI/ELY, EVANS, FARLOW, GARRETT, GOSSETT, GRAVE/GRAVES, GUTHRIE, HADLEY, HALL, HARLAN, HARVEY, HAWKINS, HAWORTH, HEDGECOCK, HIATT, HINSHAW, HOBSON, HOOPES, HOWELL, HUNT, HUNTER, JOHNSON, JONES, KIRK, LAMB, LAMBORN, LEWIS, LINDLEY, MATSON, MCPHERSON, MENDENHALL, MILLER, MILLS, MOON, MOORE, MORRISON, NEWBY, NEWLIN, OWEN/OWENS, PACKER, PAXSON, PEARSON, PENNINGTON, PENNOCK, PENROSE, PICKETT, PUSEY, PYLE, RHOADS/RHODES, ROWLES, SHARPLESS, SIMCOCK/SIMCOKE/SIMCOX, SMEDLEY, STANLEY, STARR, STUMBO, TAYLOR, THORNBURGH/THORNSBERRY, TOWNSEND, TRUEBLOOD, TUNNELL, WALTON, WEST, WICKERSHAM, WILLIAMS, WILSON, WOODY, WOODWARD, WORRALL/WORRELL, WORRILOW, WORTHINGTON, YARNALL/YARNELL and many others.
Please note: I am not a professional genealogist and my research is certainly not up to the standards to which such a genealogist would adhere. Almost all my data is from published works or correspondence and/or conversations with MARIS descendants and I have made little effort to seek out and examine corraborating records such as birth certificates, marriage licenses, etc. I have maintained records of the sources of my information and will provide those sources to individuals who wish to further validate the data for their own use.
This page was designed by Raymond L. Maris. Please contact me with additions, corrections, and/or suggestions for improving the page, publishing the information, etc. at the e-mail address displayed on my RootsWeb page.